In February 2014, GACC California will have space available for a limited number of companies at our headquaters located at 1620 Fifth Avenue in Downtown San Diego.
For ten years dozens of German companies, large and small, have used the offices of GACC California as a springboard for their U.S. operations making it a hotbed of start-up activity. Fees start at 570 USD/month. Contact Laila SchneiderGossens at Laila@gaccca.org.
Sharing space, phone, printer, Internet and other resources simply makes sense. The idea that every company needs its own office is simply foolish and outdated. Competence is not defined by how big and shiny the company's office is. It is defined by the quality of the product, the people and the infrastructure.
"The most critical period for any new project is the time from when the product or service has been developed to when it begins generating revenues. During this so called 'death valley curve', budget is usually very tight, leaving the company vulnerable to cash flow requirements. The last thing an entrepreneur should have to worry about during that time is a 5-year lease costing $2,500 per month. It simply does not make sense. It is an unnecessary financial and emotional stress factor." says Peggy Fleming, President of the German American Chamber of Commerce California.
All of our offices and workstations have a great view overseeing the San Diego bay or Downtown. We have space for 7 people at any one time. Our client base ranges from foreign high-tech-firms to architects, management consultants, artists and people who run their businesses primarily online. It is exactly that diversity that allows for cross partnerships, and encourages collaborations and vendor-client relationships. This is clearly one of the main advantages of a co-working space.
Our success is your success: Our clients also have full access to all of the GACC California partners which includes almost all major bi-national trade groups in Southern California as well as potential partners and investors.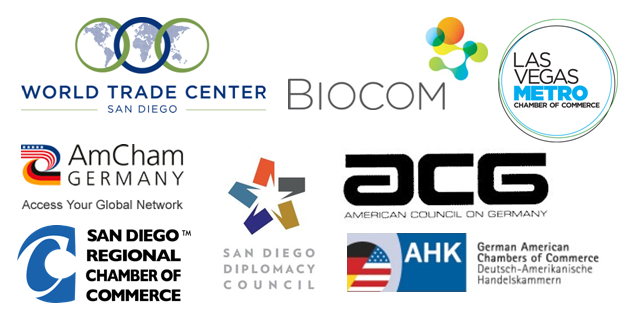 You can call Laila SchneiderGossens at (619) 7953270 to discuss which office space is most suitable for your project. You can also reach her by email to laila@gaccca.org.
"Providing office space to international companies has contributed considerably over the years to our annual budget which is 600,000 USD at average. However, this is not what intrigues me about it the most. It is simply the fact that creativity, innovation and youthfulness in my office never stops to flourish, and that makes my team love to come to work each day." Fleming adds.